Vote buying is illegal in Jamaica.
Vote buying is a corrupt act but what is vote buying.
Vote buying is the process of paying someone to either
Change their original intention to vote and vote according to the wishes of the buyer
Influence an uncommitted to vote according to the wishers of the buyer.
What did Andrew Holness say.
" When dem cum and offer you money tek de money becuz a fi unno money in d first place. Mi seh unno fi tek d money and vote dem out. Yes, tek d money and vote dem out"
When translated that is saying take the money from those offering you but do not allow that to influence the way you vote. So take the money and vote as you would have always done and not according to the wishes of the buyer.
Now, from a Technical stand point Andrew Holness is NOT encouraging vote buying and in fact is doing the exact opposite, but yet he has been admonished by none other than Trevor Munroe etal.
I keep saying the public holds members of the JLP to a much higher standard than the JLP and as such whatever happens within the JLP is subjected to a higher level of scrutiny than that of the PNP, how ironic.
Had Trevor come out and said " I do not think any politician should be offering people any kind of money in the upcoming election", I would have applauded his position, but he choose to do otherwise.
What Jamaicans seem not to recognize and refuse to admit is, politicians will always offer people money, that has been a practise in the poltical system for a very long time. In addition people are desperate so if someone comes and offer them money, they will take it, who would not.
If I don't take it someone else will and I willl be a few thousand dollars poorer.
We have been telling politicians not to pay people for donkey years but has than made any change, hell no it has not for the reason above.
If we however tell people NOT to be influenced by the offer and acceptance of cash, but they should vote according to their wishes, then sooner or later, the one offering cash will stop because it will be clear to him that the money being offered has had zero impact on the outcome of the elections and he would have been wasting his money.
So Andrew Holness charge of taking the money and vote them out is probably the best way to stop the illegal practise of vote buying .
I therefore posit that the statement by Mr Holness is not vote buying " in the real sense".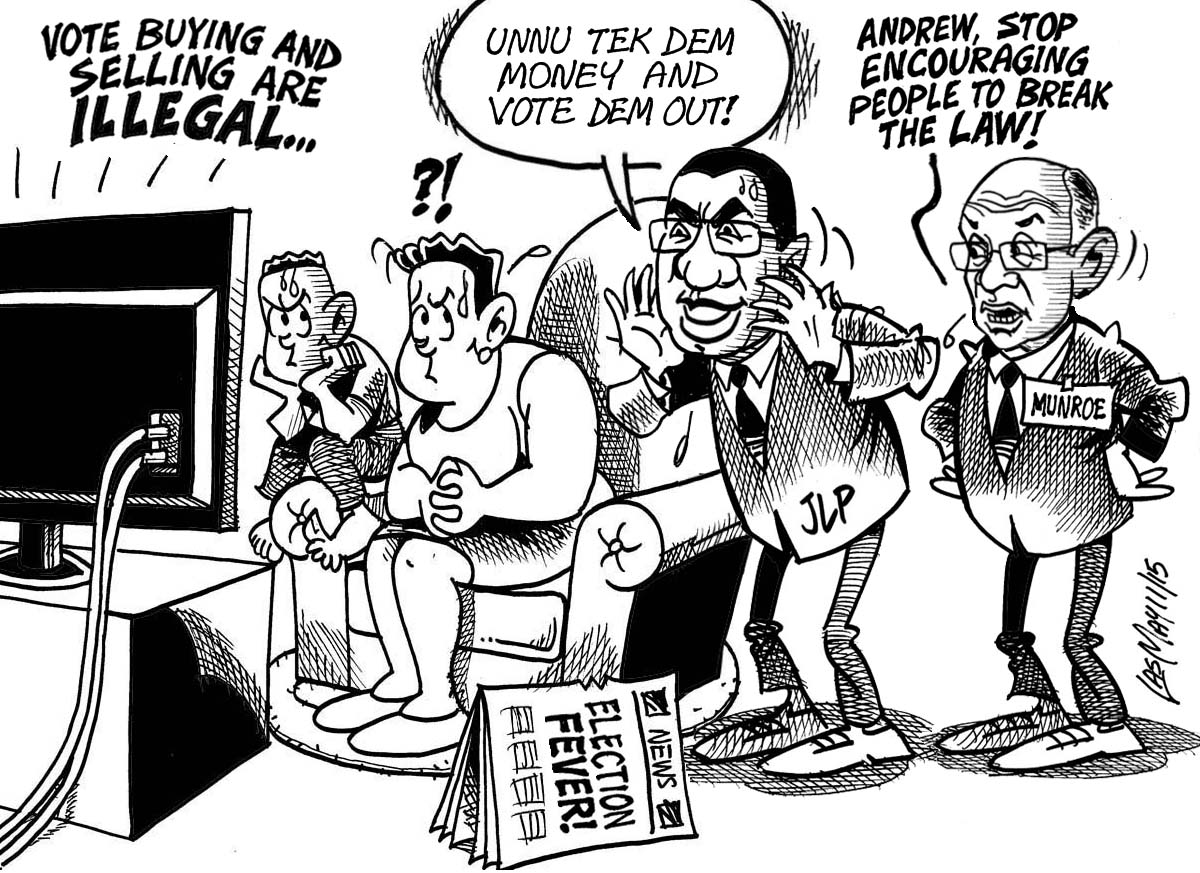 Filed under: Uncategorized | Tagged: politics |